Posts: 327
Joined: Sun Aug 14, 2005 11:21 am
Arcade super highscore: 10
Arcade highscore: 10
Contact: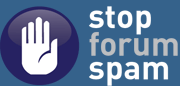 If your account is showing as banned, your IP address, email address and/or username has been reported by someone else to StopForumSpam.com. Anyone found on there is automatically banned from our forums to cut down on the hated spam that ruins decent sites.

If you feel that your account should not have been banned, please contact the site admins to let them know why.
---
---